J38001-16
PRESSURIZATION EQUIPMENT - WASTE DRAIN SYSTEM
J21001-79
B777 - HOIST ADAPTER EQUIPMENT - AIR CONDITIONING PACK
J78003-27
Hold Open Eqpt - GE90 Fan Reverser B777
98D27504038000
A27114-1
Removal / Installation Equip - Pivot Bearing H/S Tool- B767
A28007-40
Fuel Qty Tester B767-200ER/300ER
856A2608G01
Locking Adapter Engine Core -CFM56
856A1006G01
Torque Wrench Adapter CFM56-3
B71027-1
Eng Handling Sling B757 PW2000
B71006-79
Hold Open Equ C Duct B757-RB211-535
A32008-53
SLING EQUIPMENT - (MLG) COMPONENTS B757/B767
0U190360
Rigging Pin THS Actuator
2C6894G02
Removal Tool - Fan Spinner
C78010-1
C-Duct Latch Tool T/R
OHME65B01519-1
Overhead Equip Sling - Actuator Assembly Nose Gear Steering
AeroWest Mfg Corp
Learn About Our GSE Tooling Company
AeroWest MFG Corp. is a leading Supplier & Manufacturer of Aircraft Ground Support Equipment Maintenance tooling. AeroWest MFG Corp. has a vast amount of tooling in stock and has a global vendor network which allows us to support your ground support equipment (G.S.E) Maintenance Tooling requirements. We carry a wide range of new, surplus and serviceable tooling in stock for many Commercial Aircraft Fleets. We are committed to offering support for all your G.S.E Maintenance Tooling requirements by providing quality products and exceptional customer service.
For over 15 years, AeroWest MFG Corp. has been a reliable source for commercial aircraft maintenance tooling. Our customers continued satisfaction motivates us to continue supplying the highest quality of G.S.E Maintenance Tooling available. We have a proven track record of reliability and the quality of our tools is unsurpassed. Our clients around the world enjoy the large amount of inventory that we carry, the level of customer service that we deliver, and our commitment to excellence.
Besides AeroWest MFG Corp. carrying a large stock of your hard to find tooling, we also offer tool leasing services on in stock tooling, AOG manufacturing services, repair and overhaul services on your current tools and much more. If you need support with your current tooling, we will be glad to offer our services. We feel confident that with our level of experience, we can help you find the solution to your needs.
Thank you for your continued support over the years. Without your trust in our work and products, we would not be where we are today. We look forward to working with you. Please call (786) 367-6948 should you need any further assistance.
J38001-16
PRESSURIZATION EQUIPMENT - WASTE DRAIN SYSTEM

The pressurization equipment is used for blockage removal between the
waste tanks and the external service panels. The pressurization equipment
is also used for the waste valve functional test. B777
J21001-79
B777 - HOIST ADAPTER EQUIPMENT - AIR CONDITIONING PACK

The hoist adapter equipment is used to lift and move the air conditioning pack for removal and installation B777.

J78003-27
Hold Open Eqpt - GE90 Fan Reverser B777

Hold open equipment is used on all 777 airplanes equipped with GE90 engines. This tool is used to hold open the GE90
fan reverser in up to a 40 knot wind gust. The J78003-27 hold open equipment includes two J78003-28 hold open assy's.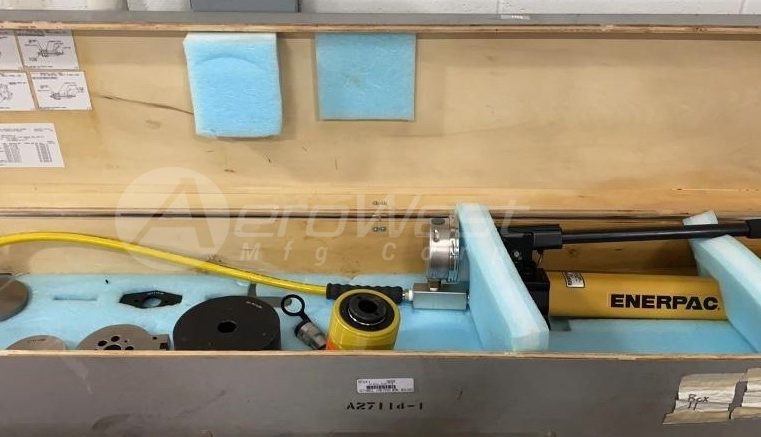 A27114-1
Removal / Installation Equip - Pivot Bearing H/S Tool- B767

Used to remove and install the Pivot Bearing on the Horizontal Stabilizer -B767
A28007-40
Fuel Qty Tester B767-200ER/300ER

This tool is used in place of fuel qty processor unit when performing fuel qty indicating system test. This tool is used on 767 airplanes with Honeywell FQIS systems only. This tool is used on 767 airplanes line number 1 thru 430 only. The -40 is used on 767-200ER and 300ER airplanes.
856A2608G01
Locking Adapter Engine Core -CFM56

ADAPTER, LOCKING ENGINE CORE -CFM56
856A1006G01
Torque Wrench Adapter CFM56-3

WRENCH TORQUE ADAPTER – CFM56-3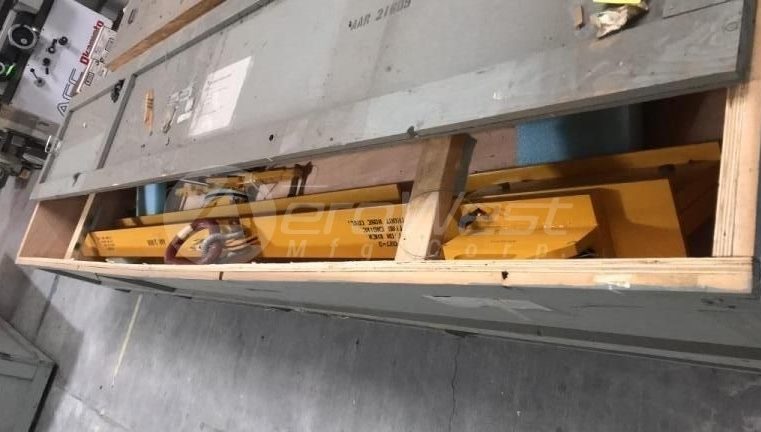 B71027-1
Eng Handling Sling B757 PW2000

This tool is used for handling the PW2000 Series engines with or without the nose cowl. This tool consists of a beam assembly, a ballast assembly, two link assemblies, a pad ssembly, related components and hardware.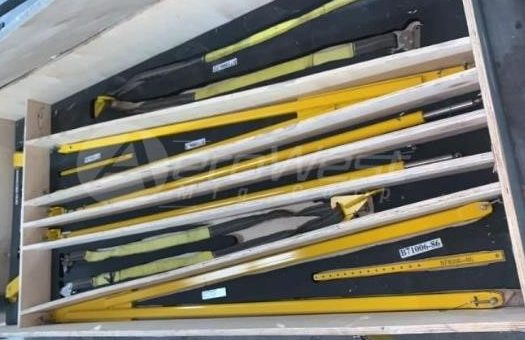 B71006-79
Hold Open Equ C Duct B757-RB211-535

This tool is used with the B71001 Handling Equipment to open or hold open the 'C' ducts when the engine and 'C' duct actuator have been removed.
A32008-53
SLING EQUIPMENT - (MLG) COMPONENTS B757/B767

A32008-53 is used on both 757 and 767 airplanes. A32008 is used with the A20001 boom hoist for removal or installation of the main landing gear drag strut and side strut.
0U190360
Rigging Pin THS Actuator

This tool is used to lock the THS actuator mechanical input lever prior to removal/installation of the actuator and/or setting theactuator in the zero position. A318-A319-A320-A321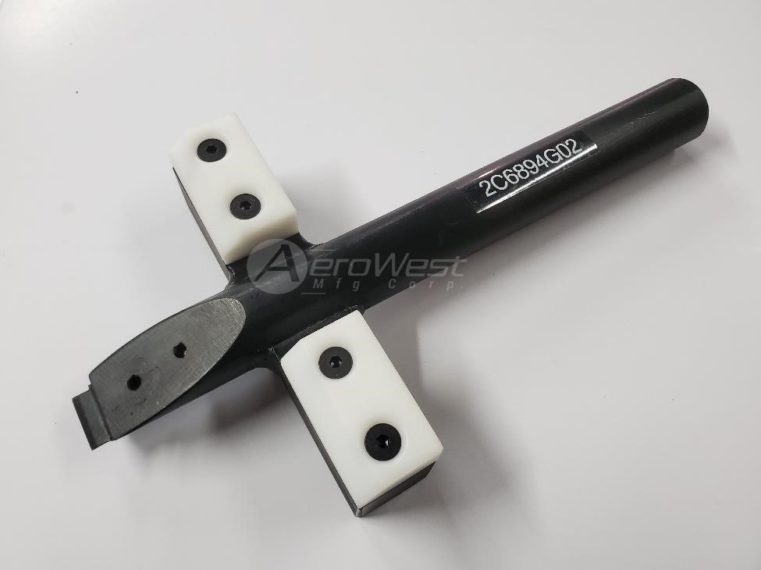 2C6894G02
Removal Tool - Fan Spinner

Removal Tool – Fan Spinner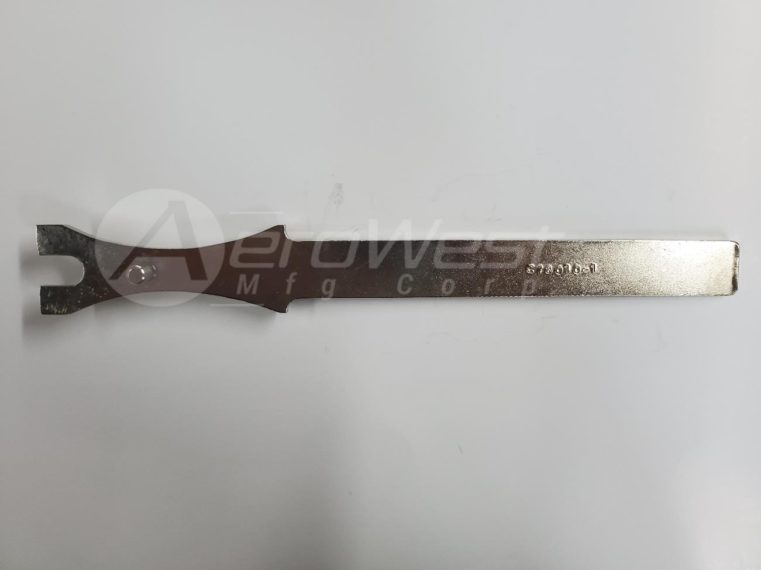 C78010-1
C-Duct Latch Tool T/R

Used to help latch close the thrust reverser
halves. Applicable to 737-300/-400/-500 only.
OHME65B01519-1
Overhead Equip Sling - Actuator Assembly Nose Gear Steering

Overhead Equip Sling – Actuator Assembly Nose Gear Steering – Used on all 747 airplanes. OHME65B01519-1 is used to remove and install the nose gear steering actuators.